Roland "Bilou" Jourdain's catamaran We Explore is an Outremer 5X modified by Kaïros Environnement, the Outremer shipyard and VPLP Design. The brief was to use as many biomaterials as possible in her construction. In particular, the deck is to date the largest ever component made with flax fibres. All the fibres were sourced in France and woven by the Terre de Lin cooperative based in Normandy. A certain quantity of the foam is from recycled material.
The accommodation below decks has been lightened to allow for the use of the heavier biomaterials without hindering the boat's performance and behaviour at sea.
"Bilou" is arrived at the second place in the 2022 Route du Rhum in the Rhum Multi category.
"This project is the continuation of our ongoing commitment to limiting our impact on the environment. Building better with less is a permanent challenge and one to which we rise with persistence and humility," says Roland.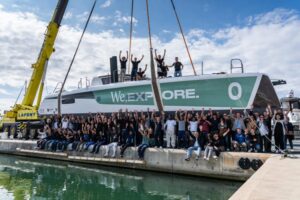 Other Outremer boats designed by VPLP: