Aperio – from the Latin "to reveal" – is a ship of two facets. Under sail, she is an outstanding yacht which, upon arrival at her destination, changes into an expansive haven of peace. 
One facet manifests itself in her powerful appearance, expressing a longing for motion. The other equates to a seaborne resort where you can live and work, perhaps sharing experiences with friends, under the helpful assistance of a small crew.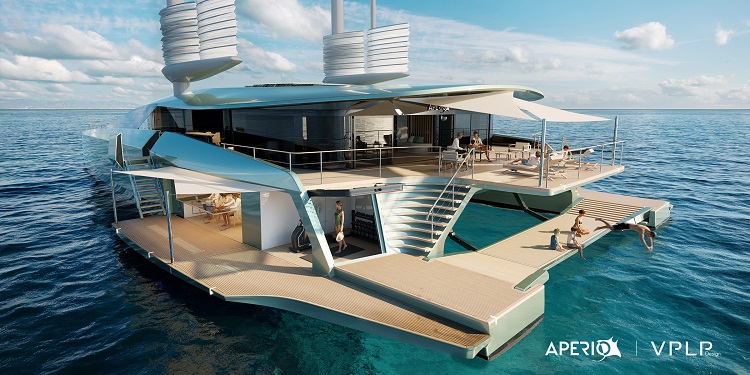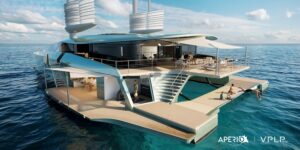 Her transformation from a powerful seagoing craft to an autonomous floating island features an almost complete metamorphosis, allowing to display  its new nature. Indeed, Aperio only completely reveals herself at moorings when her structure extends from each side to deploy a much greater surface area for better accommodating the lives of the people aboard. The afterdeck features a mobile platform which, when at anchor, lowers to create a Venetian bridge between the two hulls without hindering the access to either of the levels.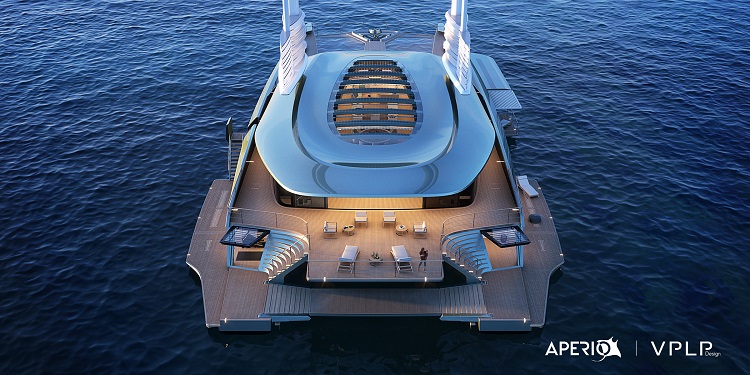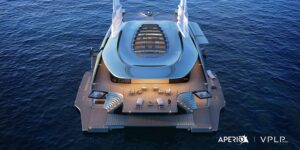 Additionally, her twin-masted design allows for the midships to be used in a truly innovative way. The wings, almost twice as efficient as a traditional rig, are fully automated and do not require an experienced crew. Integrated into a hybrid diesel electric propulsion plant they provide a silent and virtuous sail. The open flush deck at the heart of the vessel creates a substantial central living area featuring four separate cabins. The cabins are isolated from each other but remain connected through this spacious artery. The overhead glazing is a veritable skylight which illuminates the vast saloon. Inspired by the animals that inhabit this ecosystem, the shape of the roof emulates the movement and physique of the manta ray, those magnificent fish with winglike fins which glide gracefully through the ocean. Her lines, sometimes crisp, sometimes soft, create a link between the organic and the technical world.