Charal (2018) then Teamwork.
Launched in late summer 2018, Charal was the first IMOCA to be designed specifically for foils. Her skipper Jérémie Beyou wanted her to have a certain versatility, to be able to perform on other points of sail than reaching.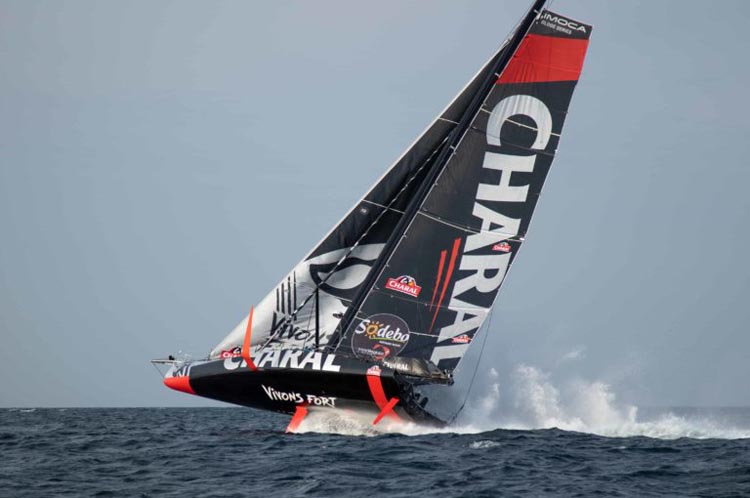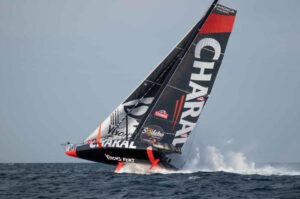 While her architects reduced her freeboard in the bow and the stern, the midships section had to be higher for her to pass the stability tests. Charal is the result of some very advanced studies, in particular relating to the CFD of light displacement craft, with her enormous foils taking the load, attention being focused on limiting hydrodynamic drag.
It was clear from her earliest trials on the water that Charal's potential for generating power was propelling these types of boat into a new era of "semi-flight". In the lead up to the 2020 Vendée Globe, Jérémie Beyou and his team tested three pairs of foils and had some modifications made to the bow. Unfortunately an incident at the outset prevented the skipper from playing a leading role in the race. After the Vendée Globe the bow was once again modified to reduce digging in, to better bounce off the water. The boat is expected to go on sale in 2022
Teamwork buy the boat in 2021 and entrusts it to Justine Mettraux with a view to her participation to the Vendée Globe in 2024. The project is hosted by Beyou Racing, the team that already take care of this IMOCA.