Hugo Boss (version 2019) then Hublot.
Alex Thomson's latest Hugo Boss was designed with no lesser objective in mind than the 2020 Vendée Globe.
Developed from the 2015 Hugo Boss – second in the 2016 Vendée Globe – and Charal, she is the result of bold choices made by Alex Thomson, drawing on his experience of competing in four Vendée Globes, including two podium places.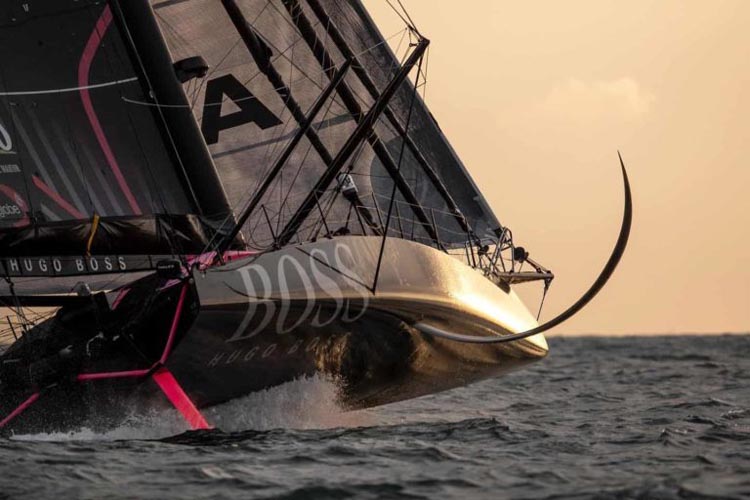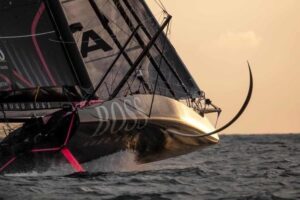 As with the Welsh sailor's preceding 60' IMOCAs, the design of the new Hugo Boss was the fruit of a tripartite collaboration between VPLP, Alex Thomson Racing and Gurit, and required numerous studies that focused steadfastly on hydrodynamics, weight optimization and foils.
Undoubtedly the most radical member of the 2020 Vendée Globe generation, Hugo Boss features numerous innovations such as an entirely enclosed cockpit (a big first on an IMOCA), huge curved foils designed for reaching, and a relatively rounded transom with a marked rise in the bilge, the objective being to reduce the wetted surface very quickly.
During the 2020 Vendée Globe, Alex Thomson led the field as far as the South Atlantic before being forced to retire
Alan Roura will buy the boat in 2021 to race in the colors of the Swiss watchmaker Hublot.