Groupama 3 then Maxi Solo Banque Populaire VII then Lending Club 2 then IDEC Sport
Five years after Geronimo, VPLP designed another record-beating machine, this time for Franck Cammas. The result was Groupama 3. A little shorter, slightly less beamy but lighter, she was built at the Multiplast yard like her predecessor. This legendary trimaran is simply one of the most titled on the planet.
After winning the Jules Verne Trophy in 2010 with Franck Cammas and a rock-solid crew, she was modified in a matter of weeks for solo sailing. The same year, Cammas sailed her to victory in the Route du Rhum, thus achieving a historic two in a row and paving the way for single-handed racing on multihulls exceeding 100'.
Sold in 2013 to Banque Populaire and renamed Banque Populaire VII, she broke three records under the steady hand of Armel Le Cléac'h: transmediterranean, Route of the Discovery, and distance run in twenty-four hours. With Armel Le Cléac'h injured, she was entrusted to Loïck Peyron for the 2014 Route du Rhum, and achieved a second resounding victory.
The much-coveted trimaran became Lending Club in 2015 and over the course of the season she smashed the Pacific crossing record from Los Angeles to Honolulu, as well as beating the records for Newport to Bermuda and crossing the Channel crewed!
She was subsequently renamed IDEC Sport when Francis Joyon bought her in 2015 for round-the-world racing with a small crew.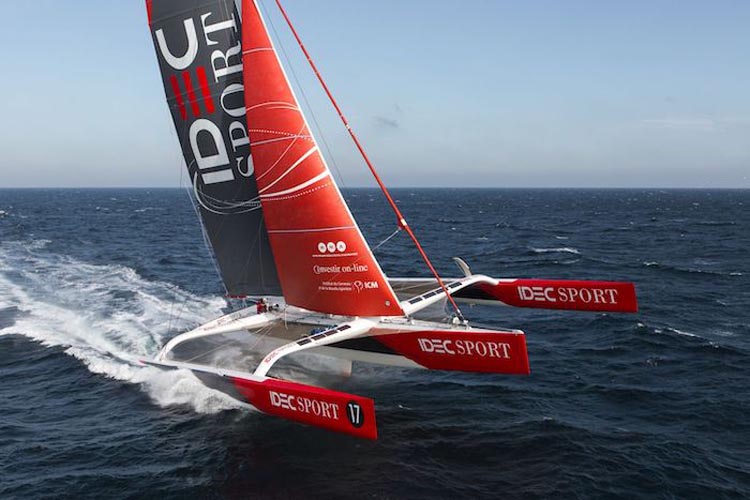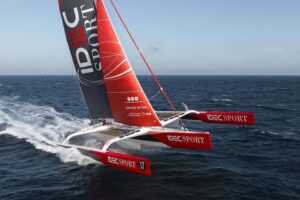 For the Jules Verne Trophy, she kept the set up Groupama 3 and Banque Populaire VII used in their victorious forays into the Routes du Rhum, being light and easy to manoeuvre with her small mast. Francis Joyon and his crew of five set an incredible record of forty days, three hours and thirty second at their second attempt, in January 2017.
And as if proof were needed of this trimaran's hunger and legendary status, she won the Route du Rhum for the third time in a row in November 2018, beating François Gabart's Macif in a thrilling sprint to the finishing line.