In late 2020, in collaboration with the Multiplast yard, VPLP ventured into the Class40 universe for the very first time. "We had been interested in this class for quite a while," says Vincent Lauriot-Prévost, "but hadn't quite found a suitable opening. This all changed when we saw the scows enter the fray and display significantly better performances than the previous boats. It was then that we said to ourselves that it was the right moment."
While designing their first forty-footer, the team initially concentrated on developing a hull philosophy and assessing the different types of shape, first using CFD and then comparative VPPs so as to establish an overall view of the advantages and drawbacks of the various options.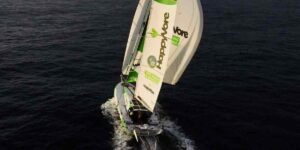 Concurrently, the firm drew on a huge amount of feedback from Class40 racing specialists, contacted specifically for the occasion, as well as collaborating with the Lorient-based trainer Tanguy Leglatin as technical consultant. In total, the project involved three months of intensive studies, including architectural studies, hull computer simulations, tests of the various set-ups using a VPP, and structural studies using a finite element analysis tool. It was a veritable investment for VPLP.
The Clak40 features a scow-type hull, bluff in the bow and with considerable rocker to give her more power, thus satisfying the latest modifications to the class rules. The aim is to offer a versatile boat that sailors can easily coax to superlative performance in deep-water conditions.
The Clak 40 :
Influence for Andrea Fornaro,

Happivore for Nicolas d'Estais,

Fondation Stargardt for Martin Le Pape,

Dekuple for William Mathelin-Moreaux.