Looking to develop a fast sailing ship to provide a shipping service between Europe and the USA, French start-up VELA asked VPLP Design to explore the range of possibilities in this fledgling sector of zero-carbon transport of goods by sea. This led to the design of a 65 m schooner-rigged trimaran which can carry 350 tonnes between Nouvelle-Aquitaine (France) and New York in under two weeks, including loading and unloading.
The ambition was to be able to promote a fast sailing ship that could cross the North Atlantic in under two weeks. In comparison, a conventional freighter covers the same route in twenty days, loading and unloading included. The start-up was adamant that VPLP were to exclude nothing, to explore every possible architectural innovation, including solutions that have hitherto never been tested in a shipping context.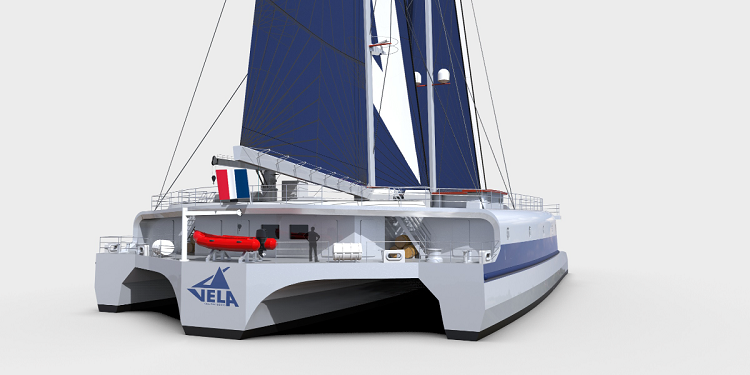 After undertaking numerous comparative studies, in particular with MerConcept, VPLP Design decided on a trimaran design which will allow the vessel to achieve higher average speeds and carry more freight than a similarly sized monohull. With her two-masted schooner rig, 25 m beam and onboard crane, VELA will always dock port side to and will be completely independent when it comes to loading and unloading, an especially important feature when calling at secondary ports along her route. The floats stabilize the platform while the centre hull supports the majority of the displacement. 
In addition to offering greater speeds, the trimaran configuration will be more comfortable for the eight members of the crew because VELA will sail upright.
To ensure safety while manoeuvring in harbour and at sea, the ship will be equipped with a conventional auxiliary propulsion system.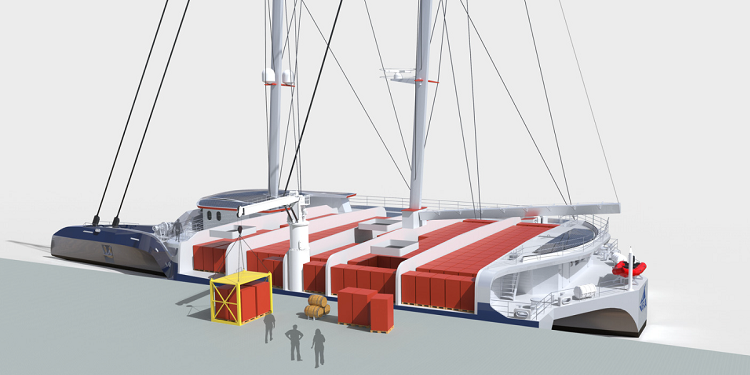 Scheduled to start sailing in 2025, the first VELA vessels will sail between France and the USA, each transporting approximately 560 EU pallets or 450 US pallets. 
Exceeding 1,000 gross tons, VELA will have to comply with the rigorous standards of the merchant marine, governed by the International Convention for the Safety of Life at Sea (SOLAS).
The team commissioning VELA want the vessel to sail under the French flag, with a permanent salaried crew, and are currently exploring the possibility of having her built in Metropolitan France.