Every year we present one or several concept boats which embody VPLP's vision and perhaps prefigure a trend, a desire or a new direction. And this year at the Monaco Yacht Show was no exception, with the firm showcasing two concepts that are fundamentally very different but nevertheless characteristic of our approach to sailing boats and the sea.
The first of these, Ampersand, takes its name from the ubiquitous "&" symbol to reflect the fusion of two worlds: the somewhat raw, competitive environment of sailing performance and the softer, more homely attribute of comfortable mooring. The essence of the Ampersand 100′ (see image above) is to reconcile these seemingly opposing specifications to forge an identity of classic elegance while incorporating features from our competition boats.

"Our starting point was the work we did for Comanche, the 100 footer which seems to have won everything since her launch," explains Marc Van Peteghem. "For instance, she features a mast set further aft to inject more drive into the sail plan, a towering mainsail and a powerful fore-triangle, as well as a chined hull worthy of our Imocas. This power was then 'softened' by a deck layout designed to facilitate sail manoeuvres, and timeless aesthetics reminiscent of classic regatta boats."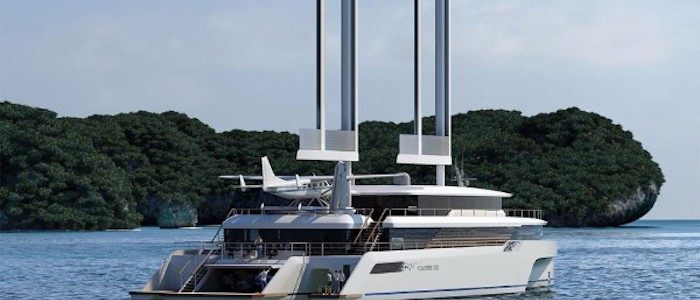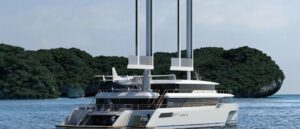 Concept number two is an updated version of Komorebi, the 282-foot trimaran we unveiled last year almost to the day. Reduced in length to 200 feet, and without the swimming pool but retaining the same roominess, the Komorebi Wingsails Exploration Trimaran (see image above) exploits its hybridity to the full with propulsion by engine and rigid reefable wingsails, the latter providing greater range to make those voyages to new horizons a reality. And with space for a seaplane and a tender the size of a work-boat, Komorebi 200 is a veritable exploration vessel too.
VPLP Design has been closely following developments in rigid wingsail design since collaborating with Oracle-USA17 for the America's Cup back in the 2000s. "In the yachting world, rigging technology has not developed at the same pace as hull design," says Marc Van Peteghem. "We believe it can be made much simpler." Reefable wingsails possess numerous advantages, not least in terms of increased power, automatic trimming, and easier handling which allows for smaller crews. And that's why VPLP Design is investing so much time and energy in the technology. "In the coming weeks we'll be starting trials of our eight-metre-high prototype," reveals Marc. Stay tuned for our first impressions early next year.